Introducing the MicroBilt Developer Portal: Unleash the Power of Our APIs
MicroBilt empowers you and your customers to make better decisions faster. Embed trusted, authoritative information directly into vital business applications. Seamlessly integrate our APIs into your enterprise or web applications, streamlining your users' daily workflow.
Select your APIs
With various API options available, selecting the right one is crucial. Use our guide to navigate content types and find the best-suited APIs for your business needs. Take the time to familiarize yourself with these APIs and their use cases.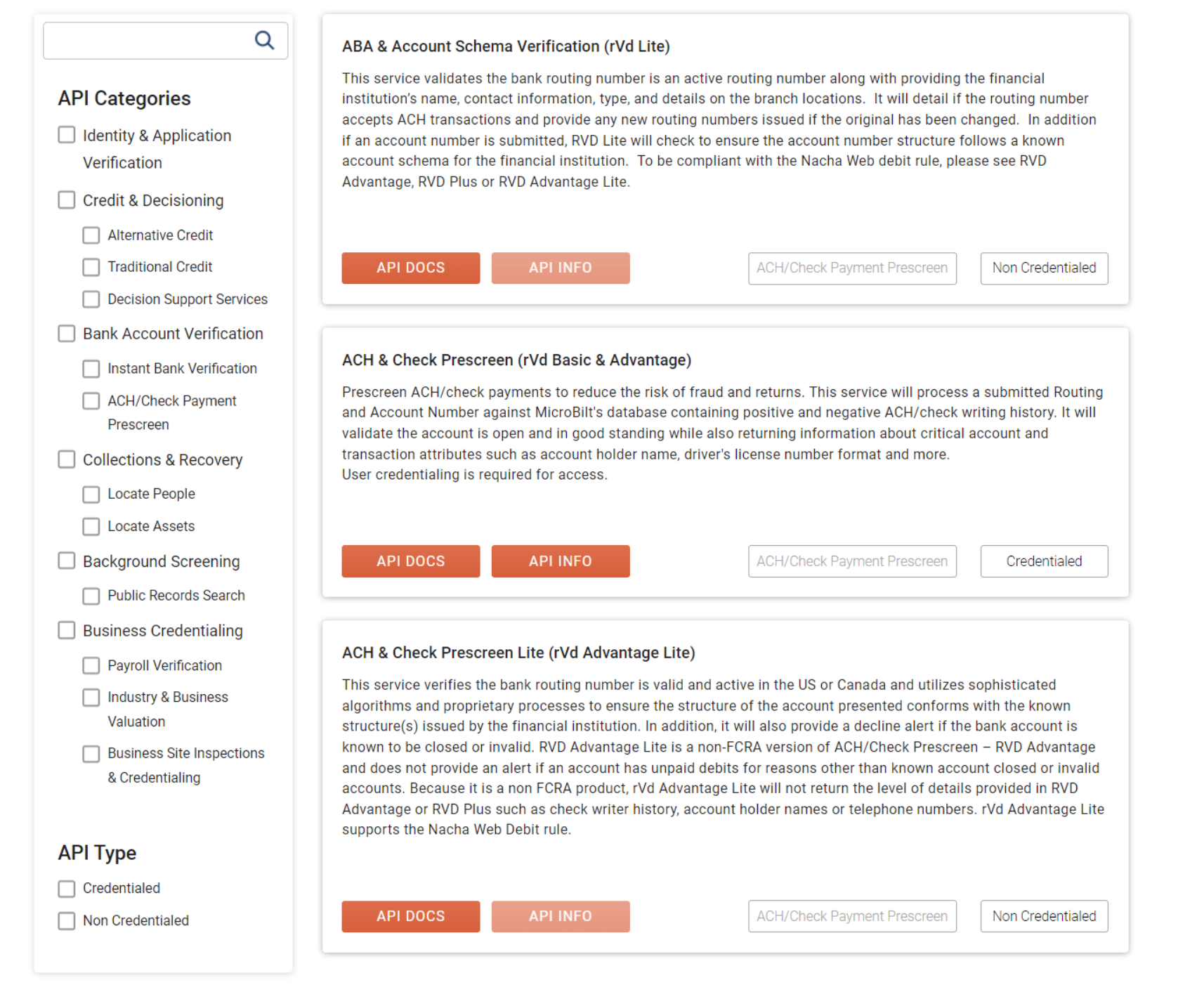 Register and Test: Experience the Full Potential
Why Register?
Registering for a MicroBilt Developer Portal account gives you access to our API documentation, specifications and the sandbox environment.
Registration is free
Instant access to API documentation, specifications & sandbox
How to Register for a Developer Account?
Fill out and submit the Registration Form.
This will provide you instant access to API documentation, specifications & sandbox.
Once registered, MicroBilt Compliance will generate a production key.
Once the account is approved you will receive an email from portal@microbilt.com with the subject line Confirm Your Account and a link.
The next step is to create a company. From the MY ACCOUNT dropdown, choose Manage Companies.
Click ADD COMPANY. Type in your Company Name and click the ADD COMPANY button.
Once the above steps are completed, MicroBilt will be able to create your product key. Email support@microbilt.com to let them know you need a production key and send the following information:  


Company Name as created on the developer site 

  


Email used for Registration 

  


Name used for Registration 

Support will let you know when the key has been generated.
Log in to developer.microbilt.com. At the top of the screen, click My Keys. You will see the key created by MicroBilt. If you are using more than one product, you may have more than one key.
Protecting Your Privacy and Trust
We prioritize your privacy and trust. For information on how we handle your personal data, please refer to our Privacy Policy.
Who Can Register?
Current and potential clients, developers, and authorized partners interested in our enriched data content, flexible APIs, and data delivery options. Use your business email for registration.
Request a Trial
Already have an account? Request a trial to experience MicroBilt API offerings. Our data specialists will contact you within 24 hours.
What's Included in the Trial?
Gain limited-time access to MicroBilt APIs, allowing you to determine their suitability for your needs.
Contact Us for Assistance
Have questions? Request more information or contact our data specialists for personalized support.